Cheese crescent rolls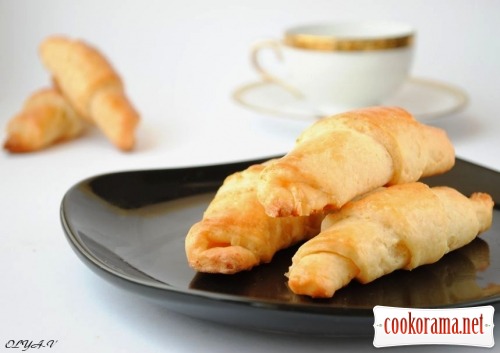 Ingridients
200 g.
100 g.
100 g.
1 шт.
0,5 tsp.
0,5 tsp.
0,5 tsp.
1,5 glass
Preparation
Heat the oven at 200℃. Cover baking sheet with parchment.
Nix in bowl curd, melted margarine, yolk, salt and sugar, stir all well, add grated cheese, baking powder and flour, knead dough, roll it in rectangular layer and fold few times.
Next, divide dough in 2 parts, roll each part again and fold in few layers, then form ball and roll a circle, divide in triangles, form bagels, you can put filling inside, for example piece of ham or cheese. Divide the same way second part of dough.
Spread bagels on baking sheet, grease with yolk.
Bake till golden color.
You can bake it right for breakfast!