Bun "sennit"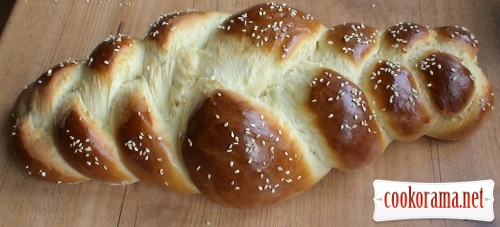 Ingridients
150 ml
6-7 g.
2 spoon
4 шт.
400 g.
2 spoon
0,3 tsp.

It is easy to prepare, for this you need:

Preparation
Mix flour with yeast, sugar and salt. Separately mix all liquid ingredients, and them to dry ones and knead dough (for 10 min, for dough not to be sticky). Shift dough in greased with oil bowl and leave in a warm place to rise (in should increase twice).
Then knead dough and divide it in three equal parts. It seems to me, that it is easier to divide in half at first, and then each half in two (three parts of dough for sennit, and from forth you can just mold few buns). So, roll sausages with thick middle from 3 parts.
Wave a braid from it and shift on baking sheet, covered with baking paper, and let it stay for another 15-20 min.
Grease bun with egg, you can sprinkle with sesame and poppy seeds and put in the oven, heated at t 190℃.
Let it cool. With honey, jam or butter and cheese plus tea – and pleasant breakfast is ready: )
I made a lot of photos, so even show the break of bun: )
By the way, form remained 4th part of dough I got such curlicues with cinnamon:
For them I rolled a thin dough, greased it with butter, sprinkle with sugar and cinnamon, make a roll and cut in small buns.