Asparagus beans + honey mushrooms in sour cream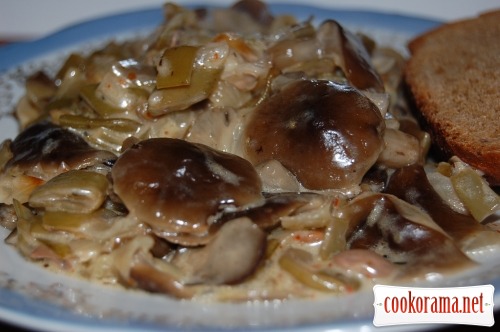 Ingridients
300 g.
300 g.
250 ml
2 шт.
1 tsp.

Interesting combination of asparagus beans and honey mushrooms – worth a try.

Preparation
Remove fibers from beans and slice at 2-3 сm thick:
Clean mushrooms, wash, cut and boil for 7-10 min.:
Boil beans till readiness:
Fry onion in oil:
Add mushrooms and beans and stew for 5 min:
Add spice:
Sour cream:
Stew for 5 min:
Tastes the best with brown bread:
Dish is spontaneous, was prepared accidentally, at own discretion, and turned out tasty.
Here are some more photos of my honey mushrooms:
Bon Appetite!
Top of recipe "Asparagus beans + honey mushrooms in sour cream"