Salad "The Garnet Bracelet"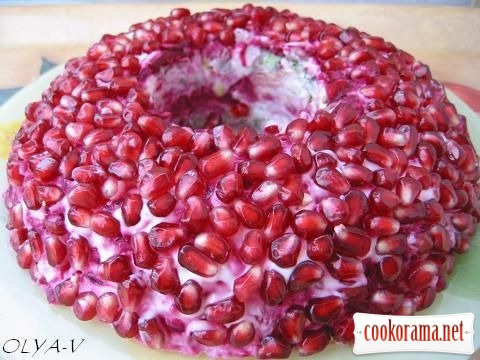 Ingridients
300 g.
2 шт.
1 шт.
2 шт.
2 шт.
Preparation
Dice meat, chop onion. Grate eggs, beetroot, carrot in separate plates.
Put glass in the middle of plate (I had only can).
Spread by layers:
Potato + some mayonnaise and a little of salt,
Half of beetroot
Carrot
Half of meat+ mayonnaise
Half of onion
Eggs+ mayonnaise
And again:
Meat+some mayonnaise
Onion
Beet root
Press all layers with fork well. Remove glass. Smear salad with mayonnaise. Pressing the top, sprinkle with pomegranate seeds.Put salad in the fridge for few hours.
Bon Appetite!
590

29 December 2010, 14:47