Beef tenderloin, mushrooms, bacon, in cream sauce. With mashed potatoes and pickled cucumbers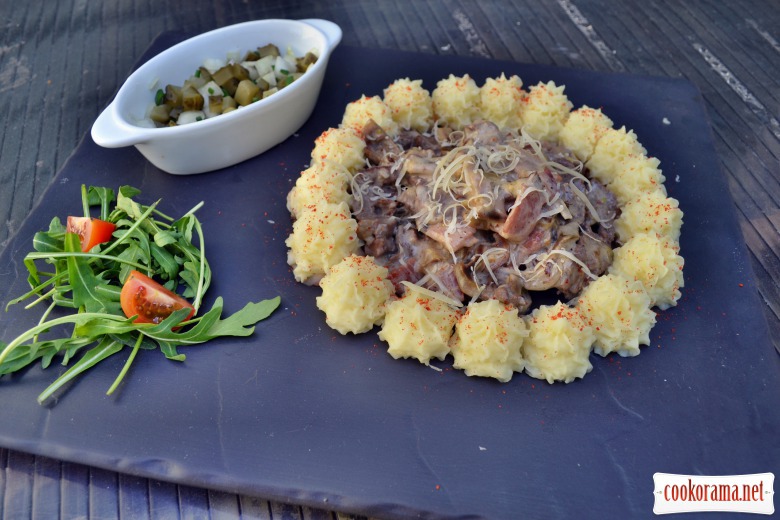 Ingridients
120 g.
20 g.
10 g.
20 g.
70 g.
20 ml
150 g.
70 g.
Preparation
Soak mushrooms for 30 minutes in water, then boil until soft, squeeze excess moisture from them, cut into strips.
Cut onion into half rings, fry until transparent, add mushrooms, in a couple of minutes randomly chopped bacon. Fry for 5 minutes, pour wine, evaporate it and set aside.
Cut beef tenderloin perpendicular to the fiber at thickness of 0.5 cm., and then into strips. Fry over high heat for a minute and a half, salt, pepper. Then we shift beef to creamy mass, warm up, pour cream.
For piquancy I added 8 drops of Tabasco chipotle (which is with smoked pepper).
Serve meat with mashed potatoes and pickled cucumbers. Cut cucumbers into small cubes, add onions and green onions. I dressed with market(with smell) oil.
Bon Appetite!
Top of recipe "Beef tenderloin, mushrooms, bacon, in cream sauce. With mashed potatoes and pickled cucumbers"
572

18 March 2015, 14:05