Salad "Island"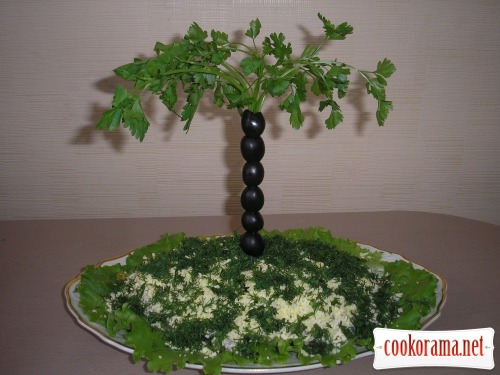 Ingridients
4 шт.
200 g.
200 g.
400 g.
1 bunch
1 bunch
0,5 bunch
6-7 шт.
Preparation
Wash and dry lettuce leaves. Peel eggs, separate yolks from whites. Grate whites on a coarse grater, yolks — on a fine. Dice fillet and pineapples. Chop dill and green onion.
Spread layers of salad, and smear each layer with mayonnaise (except lettuce leaves).
1st layer: lettuce leaves.
2nd layer: whites.
3rd layer: green onion.
4th layer: chicken fillet.
5th layer: pineapples.
6th layer: green pea.
7th layer: yolk.
Top yolk with chopped dill.
Now make a palm tree. To do this, strung on a skewer olives and insert into the top parsley.
Put palm in the middle of salad. Island is ready.