Portion salad "Ilmen"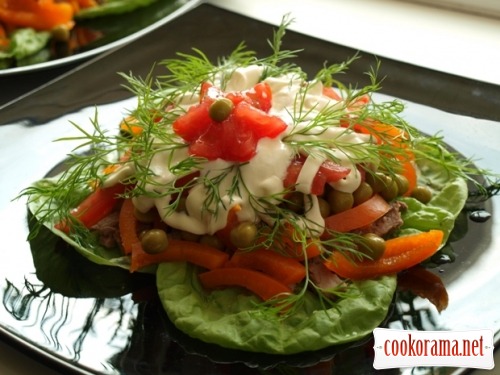 Ingridients
1 шт.
2 шт.
1 шт.
4 spoon

I prepared this salad for a romantic dinner with husband.

Preparation
Cut into sticks boiled tongue.
Pre-cut stars from tomatoes.
Cut into sticks sweet pepper.
Cut into sticks tomatoes.
Spread salad by layers. If you have mold, use it.
1 layer — lettuce leaves,
2 layer — boiled tongue,
3 layer — pepper (it is desirable to take the yellow or orange),
4 layer — peas,
5 layer — tomatoes.
Pour mayonnaise on top or do as I – mix yogurt «Activia» in half with mayonnaise. Decorate with tomato and dill.
Salad is light, beautiful and delicious!