Candy canes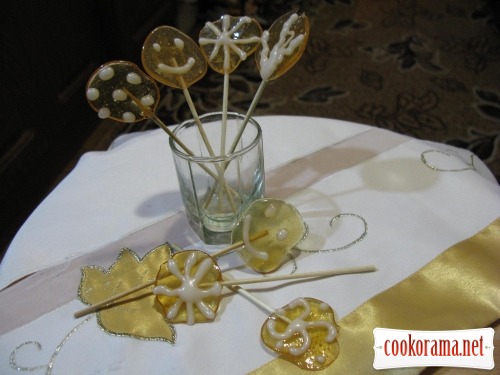 Ingridients
Preparation
Combine all the ingredients in small saucepan, stir a bit, to wet sugar and boil.
Boil over medium heat, for about 5 — 7 min, to thicken syrup.
The recipe says not to stir during boiling, I stirred.
Watch, not to burn.
Prepare before a tray, covered with baking paper, you can grease with thin layer of butter or oil, but it is not necessary.
Also sticks — handles

Carefully and gently, pour with spoon small circles or any other forms.
Immediately insert sticks, it freezes fast.
Let it stand till complete freezing, not long.
And you can start to eat and decorate them.
Bon Appetite to all

Color of candies depends from juice.
I think will be delicious with cinnamon or something else funny.