Nuts "Royal"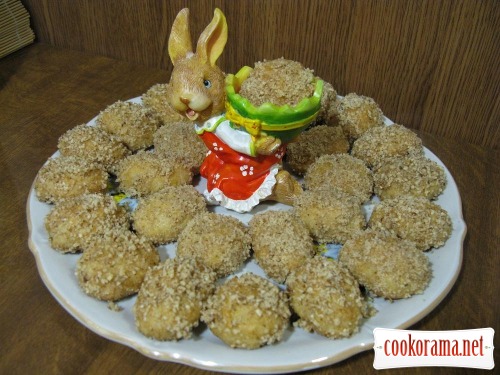 Ingridients
Ingridients
150 ml
100 ml
50 ml
0,5 tsp.
Syrop
200 ml
150 ml
The recipe is taken from from here I call these nuts «long-suffering ». Old users remember that we had a situation woth stolen recipes. In one of the comments in that discussion I promised to cook those nuts, I cooked them immediately, and only now show. Dedicate to user frea, If you are registered under a different nickname, know you ` d better cooked that stole them. It is very tasty!!! So:

Preparation
I made only half of portion, to try
Combine all the ingredients for dough and mix.
Gradually add flour, knead dough, to make it soft, but not too fat in hands.
Pinch pieces of dough, make cake, put in the center piece of nut and pinch, forming ball or oval.
Spread on cooking paper and put in the oven.
Bake at 180 — 200℃ till golden color. Let it cool.
Meanwhile prepare soup.
Combine water and sugar and put on the heat, let it boil and cook on a low heat for 20 min. Cool it. If you wish you can add spoon of cognac.
Put nuts one by one in syrup, let them " swim " in it a little and pull them out, roll in grind nuts.
Bon Appetite