Vegetarian burgers with carrots and chickpeas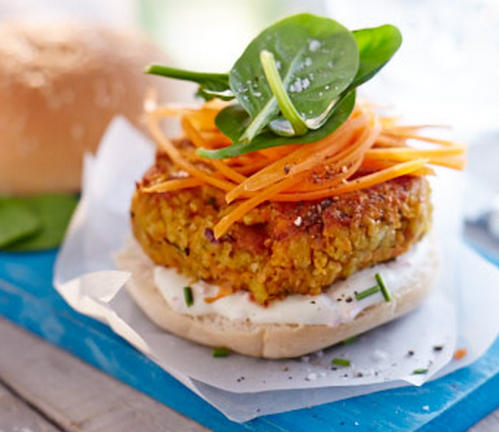 Ingridients
800 g.
1 шт.
1-2 шт.
200 g.
1 шт.
2 spoon

spices (best coriander, black pepper, paprika)
Delicious burgers for those who are fasting (egg can not be added) or alternative for «meat day».

Preparation
Grind 2/3 of grated carrot, onion, garlic, chickpeas (drain liquid), greens, spices, egg in blender to a state of «paste». Fry rest of carrot to golden color in some oil, add «paste», flour and form burgers (from this amount we have 8 pcs). Cover with film and put in the fridge for 15-20 min.
Heat grill, grease with oil and fry burgers to golden color from both sides. Cut buns in two halves, brown on grill, add on lower half sauce, spread burger and cover with other half of bun.
Sauce: mix unsweetened yogurt with lemon juice and chopped fresh greens (the amount of juice and herbs to your taste).
Bon Appetite!!!
P. S. On account of chickpeas, I specifically looked for it, it exists in Ukrainian supermarkets and relatively expensive.
Top of recipe "Vegetarian burgers with carrots and chickpeas"
689

23 February 2015, 20:05